Hey everyone!! I'm so excited for today's first guest post here on 3 Wittle Birds! My friend Robyn over at Miss GM NO is sharing her Vegan Pizza recipe with you all today! Robyn is passionate about REAL FOOD and is on a mission to change the food industry! You are going to love her!
Food Makeover: Pizza Edition
Most of us think healthy pizza is just about as mythical as the elusive unicorn, but I am here to tell you you're wrong!
It CAN be done.
Give your pizza a "BAKE-OVER"! This vegan, gluten-free pizza is killer…and easy to make. Take a look at my recipe below and give it a try! ;)

Okay before I give you my secret recipe…. let's get one thing straight. Take the image of your typical pizza- the smells, the tastes etc and throw it out the window. You have to be open-minded people. This is NOT going to taste identical to Lou's, or Giordano's etc. But just because it doesn't taste JUST LIKE that, doesn't mean it taste's bad. It is just different. It's also different in the fact that it wont pack on the pounds, in fact it will do just the opposite. So take your pick.


MY version of pizza has nearly 1/3 of the calories, 1/2 the fat, 1/20 the saturated fat, 1/100 the cholesterol, less than 1/2 the carbs, 1/4 the sodium and 2 times the fiber as a typical thin crust Domino's cheese pizza! Yes- Domino's Pizza has 100 times more cholesterol you read that right. Crazy. Talk about a heart attack in a box…. The ONLY good thing about this junk pizza is the protein but even that is a stretch. It's not healthy protein..

Let's look at the breakdown for both!



Miss GM NO!'s Vegan Pizza ( for 2-3 people)


Ingredients:

4 Brown Rice Tortillas ( found in the freezer section at places like Whole foods)


1 Cup (approx) of Organic ( no added sugar) Tomato Sauce


1 Package Vegan Gourmet Mozzarella Cheese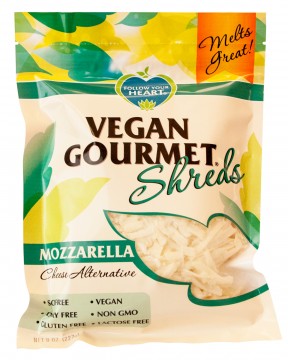 To Taste: Organic Olive Oil, Garlic Salt, Italian Spices

Directions:
Pre-heat oven to 350. Place each tortilla on a foiled baking sheet and drizzle a bit of olive oil on both sides. Sprinkle with garlic salt and bake until golden brown ( about 15 mins). You want the crust crisp!

Then, put about 1/4 C. of the tomato sauce on each pizza and top with about 1/2 cup cheese. Sprinkle Italian seasonings to your liking on top as well.

Please directly under broiler for about 5 minutes BUT please watch them! Every oven is different. **You will need to foil the edges of the pizzas as well because you don't want them to burn under the broiler.

When they come out the cheese will look perfectly melted but a little more viscous than dairy cheese. Just let it set for about 10 minutes to firm up before you eat.

Lastly, I like to sprinkle a little red pepper flakes on there for a little heat.

Then Enjoy!!!


Here is the nutritional info I created as well for one whole pizza. ( I combined all ingredients with the brands listed above and allowing for 1/2 T oil per pizza, so if you chose different brands yours will vary):





Ingredients:



CHEESE:
(vegan, gluten-free, dairy-free, non-gmo)
Filtered Water, Expeller-Pressed Canola Oil, Inulin (Chicory Root Extract), Soy milk Powder (Soybeans), Soy Protein, Agar Agar, Sea Salt, Natural Flavor (Plant Sources), Carrageenan, Lactic Acid (Plant Source).
Contains: Soy

SAUCE:
Organically grown and processed tomato puree, organic onion powder and organic garlic powder.

CRUST:
Ingredients
Brown Rice Flour, Filtered Water, Tapioca Flour, Safflower oil, Rice Bran, Vegetable Gum, Sea Salt.

NOW… let's compare my pizza to that Domino's 10 inch thin cheese pizza….
This is for a whole 10 inch personal Domino's THIN Crust cheese pizza:
PIZZA CHEESE
:
Part Skim Mozzarella Cheese (Pasteurized Milk, Cultures, Salt, Enzymes),
Modified Food Starch
, Cellulose (Added To Prevent Caking), Nonfat Milk, Whey Protein Concentrate, Flavors,
Sodium Propionate
(Added as a Preservative).
SAUCE:
Tomato Puree (Water, Tomato Paste),
Sugar
, Salt, Spices, Garlic, Soybean Oil, and Citric Acid
THIN CRUST:
Flour (Wheat, Malted Barley), Water, Soybean Oil, Yeast, Salt, Dextrose, Leavening (
Sodium Acid Pyrophosphate
, Sodium Bicarbonate, Corn Starch, Monocalcium Phosphate), Calcium Propionate (Preservative).
What is all that crap?! Monocalcium Phosphate? Sodium Propionate? Cellulose? Sodium Bicarbonate? You can easily tell the difference between pizzas and how this fast food is NOT good for our bodies- inside and out.
Give your pizza a "Bake-over" and try this out!! Comment below and let me know what you think!
Sources: https://order.dominos.com/en/pages/content/nutritional/cal-o-meter.jsp#